Toronto Remains Canada's Most Expensive Auto Insurance Market Says Shop Insurance Canada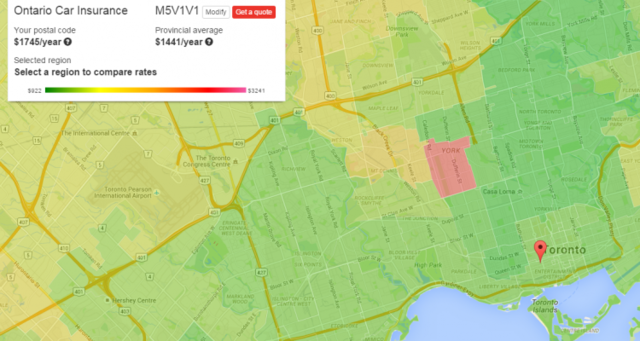 (PRLEAP.COM) December 9, 2016 – Toronto remains the most expensive auto insurance market in Ontario, while the Greater Toronto Area is bucking a province wide-trend, according to figures from
Kanetix
. The city's car insurance prices continue to rise despite the fact Ontario auto insurance premiums are declining across the province. Shop Insurance Canada adds that Toronto is burden on Ontario as a whole and the government must work harder to solve the excessive prices in the GTA area.
The study, based on a single 35-year old with a clean driving record in a 2013 Honda Civic, found that the average premium is now ,886, up from last year. As always, where a customer lives in Toronto can mean a big difference, up to 5, between paying close to the Ontario average or paying well above it.
Ontario has seen its excessively high average of around ,500 stick because the GTA region remains so expensive, Taken away, the rest of Ontario has experienced declining auto insurance rates overall. Toronto's position as the most expensive market is down to higher population and traffic densities and more accidents and claims.
Thirteen neighbourhoods including Yong-Eglinton and Mount Pleasant West were among the most affordable Toronto markets with an average of ,640. However, even this is a 1 on the most affordable market a year ago. Under the same criteria, the most expensive market is Malvern at ,595, 3 more than it was last year.
"Insurance is determined by the postal code where car is parked at night. If you live in the area, chances are you are in those high-collision intersections," the company says. "The cheapest neighbourhoods have good access to public transit and high walk score areas. You may find fewer people in those areas actually drive cars, which means fewer accidents."
Toronto Causing Ontario Average

In Ontario, auto insurance costs around ,500 on average. The Greater Toronto Area has an average higher than this. Shop Insurance Canada says that
the cost of insuring a vehicle in Toronto
is the direct reason why Ontario is the most expensive insurance market in Canada. There is no doubt, customers who live outside the GTA region will pay less for their coverage.
"More importantly, the government's efforts to
lower insurance rates in Toronto and Ontario
are failing," Shop Insurance Canada points out. "While the government missed its 15% target, insurance premiums had been moving in the right direction. However, this year has seen rates start to rise again and 2017 will see a similar trend. Simply put, auto insurance reforms have not worked and it feels like insurance companies and the government need to go back to the drawing board to find a solution."
About Shop Insurance Canada

Shop Insurance Canada is a Toronto based company
that specializes in delivering the best auto insurance products to customers around Ontario and Canada. The online insurance quoting tool uses an engine that is easy to use and accurate enough to deliver the best auto insurance quotes from over 25 of Canada's leading providers. Shop Insurance Canada also offers expert advice on the auto insurance industry, as well as guides and news to help customers find the best deal possible.
Shop Insurance Canada works hard to bring all the latest insurance news to customers. We believe that understanding the industry starts with knowing what is happening day to day. Our customers and readers are hugely important to us, and we want them to get the best deals by being involved in the industry. If you have any interesting insurance topics or stories, let us know and we will be happy to look into it and write it up.
Perhaps you have a funny story about your premium evaluations, or maybe a genuine worry about the state of insurance in Canada. Shop Insurance Canada wants your voice and story to be heard, so get in touch with us via our official
contact page
.
Shop Insurance Canada
1003-60 Bathrust St.

Toronto, Ontario

M5V 2P4

Canada
Email Shop Insurance Canada